Leaving the classroom and entering the real world is one of the biggest transitions any graduate will ever make in their lifetime.
You're finally done with years of academia, boring lectures, and long nights in the library. You're at the height of your academic knowledge and ready to finally bring your new skills and aptitude to life.
But somewhere along the line, you realize that things aren't really working as you'd expect.
Companies not only reject your applications but completely ghost you for some unknown reason!
What is Graduate Depression?
Graduation depression may not be an official diagnosis, but it is a well-known feeling that describes the extreme sadness, stress, and impaired functioning that new graduates experience after they leave behind the world of academia and learning.
The problems start to occur a few months after graduation. With a piece of paper telling that a graduate has a set of skills, a person is set out with the hope of finding an occupation that will pay off all those years of studies. But following a series of failed job interviews, the entire process becomes extremely discouraging. Not to mention that in many countries, graduates are left with thousands of dollars or euros in debt, living with their parents, and feeling isolated.
How to Deal with Postgraduate Depression?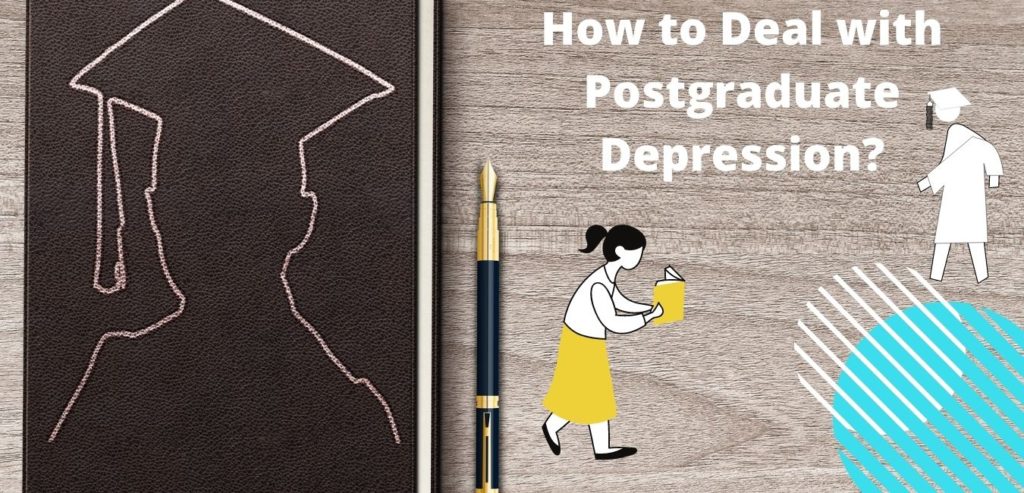 I believe the biggest problem every graduate or even job-searcher does is relying too heavily on the thought that a company, NGO, SME, or conglomerate will take them into their embrace once they find a resume suitable for their requirements.
However, job searches are more difficult throughout the autumn or late summer period when thousands graduate. You will be plunged into fierce competition, where the HR will have piles of CVs covering their desks. Don't go with the flow. Apply before you get your diploma or take a long break if you can afford it and send your application several months later.
How to deal with depression after your College Life?
I believe there are three problems at this stage.
The first is the inability of finding meaningful work or a place of belonging where knowledge and labour can be valued. All those years of studies seem to be in vain.
A workplace is also a community, where we can develop, learn, and integrate with our colleagues. Without meaningful tasks, people lose interest in their efforts.
And the third is simply the inability to eke out a living without a stable income that is expected of every young adult. This becomes even worse when graduates are under stress and anxiety because of their student loans and the inability to make ends meet.
How to cope with Postgraduate Depression?
Becoming self-sufficient while doing something you're genuinely interested in is the main reason people enroll in higher education. But if you're unable to find a job, there are many ways to make some money or even build a career, while you develop new technical skills that can be combined with your studies.
Here are a few questions I asked myself when rejections kept piling up from all the companies I thought I'd have a good chance to score and interview.
Is find a job the only way to overcome this difficult time?
Can I do anything else, after my Gmail gets piled with rejections?
Here are three methods or questions that can help you create a profitable. you can use your knowledge and degree online with some of my tools and tutorials to help you out.
Create a Blog and create content around your knowledge
Many graduates think that blogging during their search for a job is a good idea. And I couldn't agree more!
Many people turn to blogging during their search for a job only to find out that they can earn more money than any internship or entry-level position. Some people choose to blog about themselves, whereas others about a specific profession to share their knowledge and make a living.
With a blog, you can share your knowledge and teach others, while you make money.
If you need help, there is a FREE Ebook you can use to get started with your blog. Click on the image below:
Start Freelancing your Knowledge
As a graduate, you have a lot of new skills and untapped abilities to help companies or individuals with tasks that may seem simple to you. I turned to Fiverr to find clients.
Fiverr is a freelancer platform where thousands of people might be looking for your skills and willing to pay you handsomely! The competition, however, is pretty big. Since the barrier of entry is easy, a lot of people flood Fiverr, making competition even bigger for beginners.
But if I found a client in 1 month who trusted me, the payoff provided enough money to pay my rent and some groceries instead of asking my parents to help out.
Fiverr is really worth trying, especially if you're waiting for a response from a company to get back to you or invite you for an interview.
Build your own Online Business
Maybe searching for a job was never meant for you.
Maybe you were supposed to create your own business!
I believe starting a business is perhaps the most exciting thing anyone can do. There are difficulties and challenges on the road ahead, but the risks of starting an online business are extremely low since websites and online services are becoming easier and cheaper to make!
If you feel nervous about getting a job or fitting in with your new work environment, you can always take matters into your own hands and start your own business.
Sign up for my FREE EMAIL COURSE to build your own business online by clicking on the image below: