The music industry is rife with competition for an audience!
When it comes to musicians, singers, and composers, there are just far too many people with talent, not to mention the "winner-takes-all" attitude of the music industry. Music producers are no exception! Whether working with talented artists or making music from their office or home, the market is exceptionally challenging!
However, employees working as music producers can expect to earn anywhere from $29,000 to $99,000 in the United States. To be more precise, the average salary a music producer makes is reported in Glassdoor at around $52,966 per year.
This number does not include entrepreneurs or self-composers. There are those who make their own music online and market it from the comfort of their homes, earning millions of streams and thousands of fans.
How do they do it?
It's 50% music and 50% marketing. Here's how!
What is a music producer?

Usually, when we mention a music producer we think of a technical leader who coaches artists, bands, or DJs to record and modify their tunes. They work in many different areas within the entertainment industry, such as films or computer game soundtracks, commercials, and putting together sounds through audio engineering.
Music production has changed over the years and many creators can now buy their own equipment and use their own creativity to make their own content from the comfort of their homes. With CDs and DVDs in the past, anyone can create, compose and upload their content. multiple streaming platforms like Spotify, Soundcloud, or Tidal, without battling to find an agent.
And that is why in this article, I'd like to focus on the aspect of making music and branding it yourself online to make money and find your audience!
How to make money with music online?
Let's assume that you've got a guitar and mastered it to perfection. Or you could be a DJ, or an amazing singer, or a promoter of others' musical talents. Whatever the case, you start exercising your musical talent and record your work. Now what? How do you reach your audience?
How can you get people to start listening to what you've worked on and make money from it?
There are three different ways you can make yourself a decent sum and we'll go through each. What you have to focus on is using every available tool at your disposal and expand your music far and wide on the internet.
Individually, these three tips would be insufficient to make a living, since so many talented musicians try to use the internet for money-making purposes. Most content creators have their work available on their own websites, video channels, and streaming platforms.
Podcasting through Streaming Platforms
The most obvious method of getting paid for your musical talents is by uploading your content to different streaming platforms.
Platforms like Spotify, Pandora radio, Amazon, and Soundcloud host millions of songs, and with ads and paid subscribers comes a proportion of the profit to you. Here's the estimated amount you could earn for each streamer listening to your podcast.
Assuming that you get 10,000 streamers on Spotify a month, you'd make around $43.70. And getting this many streamers every month is no easy task. So how else can you boost your numbers?
Creating more and more music with high-quality-tune can lead any passionate musician or music producer to burnout.
So once in a while, you can put music aside and just talk to your audience, make announcements or just jam with some creative context. Whatever the case, Podcasting is a growing industry that musicians should use to make their voices heard. It is much easier than consistently pumping out songs and editing them.
The good thing is that you can talk about your work and its many challenges. You can prolong your content and discuss music with others in a Podcasting series. Try hooking up with other popular podcasters or musicians who can invite their network to listen to you and share your podcast on social media, fueling your growth.
With a few thousand streams each month, you can see yourself earning some extra cash. But with podcasting, you save yourself from burnout and grow your fanbase by interacting with them.

When it comes to Podcasting, most people would recommend usingBuzzsprout.It is a free podcasting platform and software that lets you upload, host, and promote your podcast. From secure and reliable hosting to full iTunes support, HTML5 players, show stats, and of course, Buzzsprout has everything you need to publish and promote your podcast!
They also offer a $20 Amazon Gift Card if you decide to sign up for their paid plans, which you can receive after the second paid invoice
How to make money with music on Youtube?
When it comes to music production, we must take the online video-sharing giant. Youtube is home to 1.9 billion users where 500 hours of video are uploaded every minute according to
Brandwith
.
When you come to think of it, the top ten
most popular videos on Youtube
are all music videos, with the top three being "Baby Shark Dance," "Despacito," and "Shape of You." Video dominates the internet and without having a powerful rival, Youtube will continue to use its monopoly on the internet.
YouTube is available in more than 90 countries with 1.9 billion monthly active users as of mid- 2018. That equates to about one-third of all internet users. These are definitely Youtube statistics worth paying attention to!
It is the second most-visited site in the world, opening doors to reach an even greater audience. But not everyone can trend or get the attention of potential subscribers. And that's because very few people understand the algorithm behind Youtube's search engine.
And the way to make money to make money as a music producer is to cater to people's needs!
For a comprehensive guide, you can download my free eBook on keyword research, content optimization, tag placements, and thumbnail designs that can get you the most attention on Youtube.
But to summarize everything, here are the things you need to do to make money as a music producer on Youtube
Research the Music Industry
Do keyword research to find the search volume of what people want and are looking for in specific countries. This tool supplies you with tons of keyword variations along with their competitiveness rates based on the seed terms you type in.
Find Trendy Topics
You need powerful target phrases to boost the visibility of your videos. This gives you an idea of search trends in your industry is to utilize YouTube's autocomplete feature. The best way is to use a tool like Google Trends to find out the most common and sought-after topics in the world. Similar to keyword research, you can find out what is trendy in the music industry.
Create the right Metadata
Your metadata consists of your title, description, and tags. This used to be a vital part of searches, but since Google and YouTube implemented machine learning for object recognition, YouTube can now identify objects in your video while estimating their relevance to a particular search query.
Keyword Rich Titles
A video's title is the very first and sometimes the only thing searchers look at before clicking on your video.
When thinking of a title, you should include the aforementioned research of the keywords that you want people to search for. Try to make it look interesting but avoid overhype promises that fall face-forward.
People hate clickbait and will avoid your channel in the future.
Video Description
A video description can be up to 1,000 characters long. But let's be honest, we rarely read the entire description, unless we desperately search for something. But that doesn't mean we should ignore the importance of Youtube descriptions entirely.
Most people who look at your description will only read 2 to 3 lines of text. Therefore, the first 100 words are the most important. This is because if the first few words are interesting enough they have to click on "Show more."
And this comes to my second point. In order to double your visibility, you need to have a website.
Marketing your Music Online with a website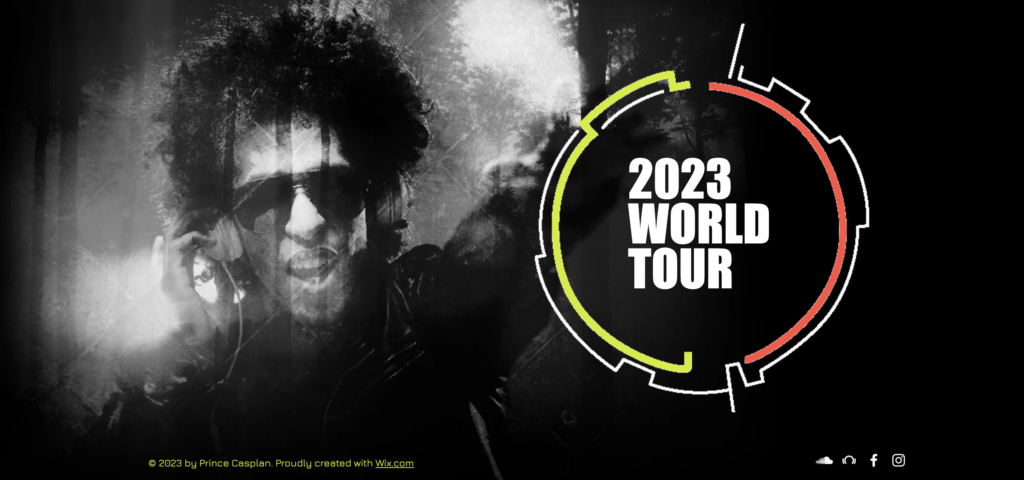 Imagine having your own virtual studio where people can see you know, get to know your work, and be aware of your latest updates. Having your own website is like having a virtual spotlight that will give your musical career a huge boost, especially if you want to go solo or freelance.
Nowadays it's cheap and easy to make a website. For this, I'd recommend using Bluehost, where you can get a free domain name of your choice and have your website live in about 15 minutes.

What you must focus on the most is your work and what it can offer your website visitors. You can use your website for multiple reasons like upload downloadable content, start selling your merch, run automated ads, use affiliate links to musical products and services.
The possibilities are endless.
Having your own website will represent you as a music producer and act as a sales funnel for your work. There you can upload and display every bit about what you do, how you do it, including your merch and services should you wish to freelance.
How much money do music producers make?
As mentioned earlier, according to Glassdoor the average salary for music producers in the US is around $52,966. This is a vague estimate based on biased reviews that do not include working hours, states, gender, or whether the person added their net or gross yearly salary. (But we can assume that it's before taxes.) While this does not sound bad, there are so many opportunities to make a few thousand dollars extra through freelancing and composing your own music.
However, if you work on your own, there are several additional costs and burdens you will have to cover yourself. You will, of course, need your own professional music studio, (unless you are renting) which would cost anywhere around $40,000 to $150,000, or settle for a less expensive home studio which would be between $10,000 to $20,000.
Conclusion
As an experienced music producer, you expect to earn a decent amount of money to make a living. But the possibilities as a freelancer or solo musical producer are immense. Despite having a competitive market, music producers with high-quality content and the right marketing tactics can carve a piece of the pie from the music industry, earning six figures easily.
If you want to be an independent music producer you will need a website, a Youtube channel, and several active accounts when streaming your work, along with a professional studio.